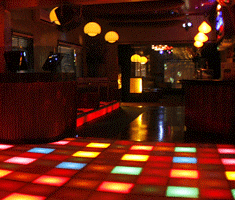 -- at #161, we would be a relatively small and extremely lush late night venue that is designed to provide a comfortable, beautiful and interesting space for the good people of Melbourne to socialise, mingle, listen and sometimes dance whist receiving friendly and professional hospitality that is second to none. Fortunately, it's just a LoserBrunch and #161 will be at NOON, Sunday, October 20, at

The Mosiac Cafe
186 Halpine Rd.
Rockville

The reservation is under "NRARS". Say it quickly before they think you mean "NRA".

This event and those listed below are open to all Invitational contestants, readers, lurkers, skulkers, morbidly co-dependent enablers, critics, wannabes, and guests.
Loser T-shirts are not required and may not be noticed.
Newcomers are not expected to be funny.
Oldcomers will not try to be funny.
Attendees kindly RSVP.

Sunday, November 17, 2013:
Kilroy's, Springfield

Sunday, December 8, 2013:
Gertrude's John Shield's Restaurant, Baltimore

Saturday TBD, January 2014:
15th Annual Judeo-Christelvismas party, location TBD
Sunday, February 16, 2014:
Buddy's Crabs and Ribs, Annapolis

Sunday, March 16, 2014:
Il Paradiso, Springfield
Sunday, April 20, 2014:
Clarendon location TBD
Saturday TBA, May 2014:
19th Annual Flushies Awards Dinner, location TBD
Saturday TBD, June 2014:
14th Annual Loser Olympics, Grand Gaymon Island
Weekend in July 2014:
Possible LoserFest, venue TBD
if no LoserFest, Bus Boys and Poets, College Park

Sunday TBD, August 2014:
Venue TBD, Gettysburg

Sunday, September 21, 2014:
The Front Page, Arlington (someone remind me to ask for an outdoor table)